We Provide Best-in-Class E-Commerce Account Management service at Affordable Pricing

Low Operational Costs
Ability to save money on personnel as checkout, payments, delivery, and all over operational processes can be fully automated.

Increased Customer Base
Having the potential to be far reaching by search engine visibility & possibly even social media integration.

Speed and Convenience
The process is usually very quick and orders can be placed in a relatively short period of time.

Minimal Barriers To Entry
The costs of running such a business are minimal and the initial investment is moderately low.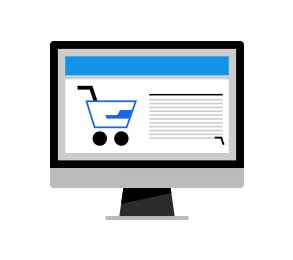 Request Free Consultation
Top-Notch Ecommerce Account Management Solutions For Scaling Businesses
In this era of technology more and more consumers are moving online for shopping. As a seller, you can reap the advantage of an e-commerce marketplace. At Essitco we offer comprehensive E-commerce business solutions that help succeed in the digital economy.
Our dedicated team of E-commerce account management will handle all your e-commerce accounts on all the leading e-commerce websites such as Flipkart, Amazon, Myntra, Limeroad, Nykaa, eBay, Groupon, Shopify, and Snapdeal. Their years of expertise will help you gain maximum exposure to your target audience, boost sales, manage Pay-per-click campaigns along with ensuring you never run out of stocks!
Why Ecommerce Account Management?
Businesses looking to scale up, earn profits, and reach new heights Ecommerce account management solution is the savior. From managing inventory to resolving customer queries to feedback management everything is taken care of under one roof so that the seller can focus on growing the business.
Effective Portal Management
End-to-end solutions like product description, discount code, promotions, and advertisements are proficiently managed by trained experts.
Never Run Out Of Stock
The product journey from manufacturer to warehouse is efficiently supervised, ensuring the business provides world-class customer service.
Logistic Management
Our e-commerce experts will ensure your product safely reaches the designated consumer via a fast and reliable logistic company.
Extensive Report
Get the full analysis of your e-commerce account to know what steps to be taken to increase revenue as well as find any issues.
Feedback Management
To enhance your brand image feedback management is imperative. The negative reviews and ratings are to be dealt with first as a responsible seller. Plus sending a feedback request to positive or satisfied customers will take your branding to a whole new next level.
Our E-commerce Account Management Services Are Tailor-Made
No matter if you are an established seller on any e-commerce portal or a beginner our solutions are designed to meet what you need.
PPC campaigns, product listing, optimization, and returns, we have a trained team to help you out!
Our team designs strategies after comprehending the online business that helps you achieve desired goals.
Competitor analysis is our forte! We evaluate the competitor and come up with strategies and tactics to surpass the competition.
Why Choose Essitco as Your E-commerce Partner?
We are a result-driven company with professionally trained staff including Amazon Trained eCommerce Specialists (ATES), PPC experts, SEO experts, and accounting executives. We offer an array of services at affordable rates for businesses striving for success!
We provide accurate and data-driven insights to understand the hyper-competitive market.
We have a professional team with 5+ years of experience in e-commerce account management.
Our team helps you in selecting new inventory, effectively listing the products, and tactics to get a maximum public eye for the target audience.
Our customized marketing plan is designed according to requirement and budget that makes sure the business is on the best route map of success.
We cover every aspect of the e-commerce portal and support performance monitoring so that businesses pay heed to what matters the most- product sourcing!