We Provide Best-in-Class Website Migration & Maintenance at Affordable Pricing

WordPress Template Customization
Choose the WordPress theme that is most like what you want and we will customize the template as desired.

E-commerce Store Setup
We will translate the blueprint into working prototype and place the design elements in the right order like woocommerce in WordPress.

Custom Extension Integration
To ensure a fully-functional store, we will integrate Magento extension for payment, shipping, and cart checkout.

Migration and Maintenance
With your consent, we will upload the files to your web server and also provide long-term work support.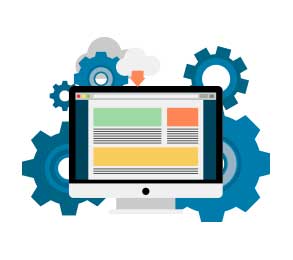 Request Free Consultation
Modern progressive websites are not planned to be static. However, anybody who wants to move from one website to another can understand that it's almost as complex as shifting to a new home with a smooth drive. Relatively, the value of a phenomenal website lies in its ability to maintain the existing data integrity. We make it achievable by pulling your search for a reliable company for website migration and maintenance to stop at e Software Solutions.
Website Maintenance Services
Our vast collection of flexible website maintenance facilities includes periodic addition of new pages, revisions in the content and navigation structure of the website and tweaks in the specified element of the website. Furthermore, we also provide additional services for custom ecommerce and membership plug-in installation, custom API integration for Google maps, payment gateways, shopping cart, event booking, and calendar to include scheduling features in the website.
Website Migration Services
Our website maintenance programs ensure that your site is always current and your project stays within budget. Our standard program includes, content updates, update images, and support via telephone and e-mail. We include all of the services you require in order to ensure both the short and long-term success of your Internet program. It also includes revising, editing, or otherwise changing existing web pages to keep your website up to date. The periodic addition of new web pages is also part of maintenance services.
e Software Solutions – A Trusted Indian Partner for Website Upgrade Services
Most of the web development companies in the market are not tech savvy and fail to completely export the back end modules, and database files using FTP server. They do not take appropriate measures while implementing the process of migrating their client's website from current server to the target synthesis server. This proves fatal to the client's business growth as it disturbs the balanced plane of switching over current website content to the now chosen CMS system.
At e Software Solutions, we work on the underlying Web 2.0 standards to ensure that your current business requirements are met with long term perspective of success in online business continuity. We offer complete website migration services for WordPress, Magento, PHP, Java, dotNet and mobile web applications.
Our premium website solutions include content writing for new websites, custom theme uploading, custom ERP system, web inventory software integration, automated email system integration and UPS tracking module for purchase order in the ecommerce domain.
If you are still upset with choosing the best means of website migration process and want to include site architecture techniques for new web hosting designs, our professionals are always ahead to help you every time. We look forward to helping our customers migrate partial content or full website archives.
Focus on your business goals while we migrate your website contents with latest upgrade on your server.